Though, not really... Today, I got up early at 8:30 when the nurse from the insurance company came by to get my vitals and take a blood sample. Nice way to wake up... but honestly, it could have been worse. At least I was awake when she left and then I had the whole day ahead of me.
I've pretty much just been seeing to a few regular chores outside (basically, taking a tally of everything I need to do asap so that the garden continues to survive the winter) and indoor hobbies all day. Did not unpack a scrap (something I'm sure I'll regret tomorrow). I've also not done any laundry, which I really need to do. Ah, well!
I did finish the first half of
Fetching
in Rowan Cashsoft DK. I know I've said it before, but I will say it again: I love, love, *love* this yarn. ::sighs:: Here are pictures of the results: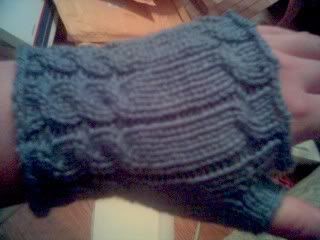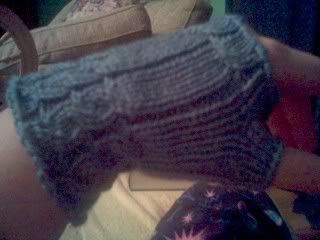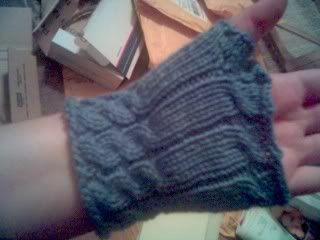 I quite like it! And I learned a new skill: doing a gusset for one's thumb. Not very well, mind you, because I had huge holes I needed to hide when I wove in the ends, but I get how to do it now, skillfully or not. A good warm up for
Knucks
, though there's no gussets in that pattern, as it is knit from the cut-off fingers wristward.
Speaking of Knucks, I'll probably have to wait 'til at least Spring Break to get the yarn for it because I can't bring myself to order it without having touched it to find out if I like it... ya know? But in the meantime, I'm planning the design I'll embroider and the words I'll use... Like Tolkien, I'm a tree-hugging non-hippie. I *love* trees. They are wonderful and I have been known to literally hug trees when the mood strikes. So, how to express this in two four-letter words? Or at least on eight fingers? I've complied a short list of ideas:
LOVE TREE
LUVT REES
HUGT REES
HUGS TREE
None of them totally work for me though... and TOLKIEN, TREEBEARD, and ENT MOOT don't have the correct number of letters... As you can see on the pattern page, it's pretty much gotta be eight letters total. The thumbs just aren't easily seen as being part of the words.
HOBB IT@<3 or HUGA TREE maybe? Could work, I s'pose.
But I do welcome suggestions on this, if anyone happens to have any laying about unused.