Some might not consider it a chore because it's very necessary to finishing any knitting project, but I hate weaving in ends... usually... I find it tedious and tiresome... generally. The last few days though, I've actually felt like doing it, so I've been weaving in ends on all the knitting projects I've done in the last four months. All of them were sitting, literally in my face, piled next to my computer monitor for weeks and months. So I picked up my darning needle today, and went to work and I was quite productive.
My Fetching mitts are finally done...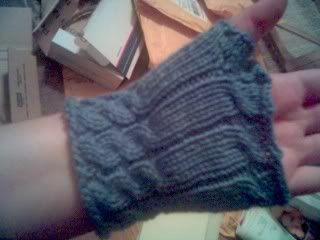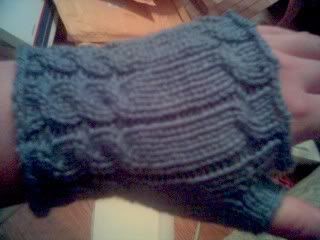 And I finished the first of the placemats I'm making for a breakfast set. It's light blue and yellow stripes. Very provençal. (No picture though...) I need to figure out how to carry the yarns better though so I don't have 26 ends to weave in on the other three... That many is just daunting!
And I finished the three round dishcloths I made back in December. Here's the prettiest of them and the only one that I needed to block:
Now, I no longer have any outstanding projects to finish (except for the 1864 shawls that are waiting for yarn that is suitable for stripes and the rest of the placemats for my set). and I'm free to start on something new. Don't know what I'll do next. I need to rip out a few things I've re-thought so I can use the yarn for other things. I need to make a hat for Susan's friend who has recently been diagnosed with cancer, and I think I might have enough yarn to do that... And I need to make the other three placemats for that set. So that's probably what I'll start on next: the hat and the placemats. It'll keep me busy (like I need help with that) that's for sure.