Like I said yesterday, baking was necessary and challah was the bread of choice. I made three loaves because that's how much the recipe was for... one of these loaves, the smallest only just slightly, is gone already. LOL!
Pictures!
Before baking (I don't have bread pans... I should probably fix that sometime soon):
After baking: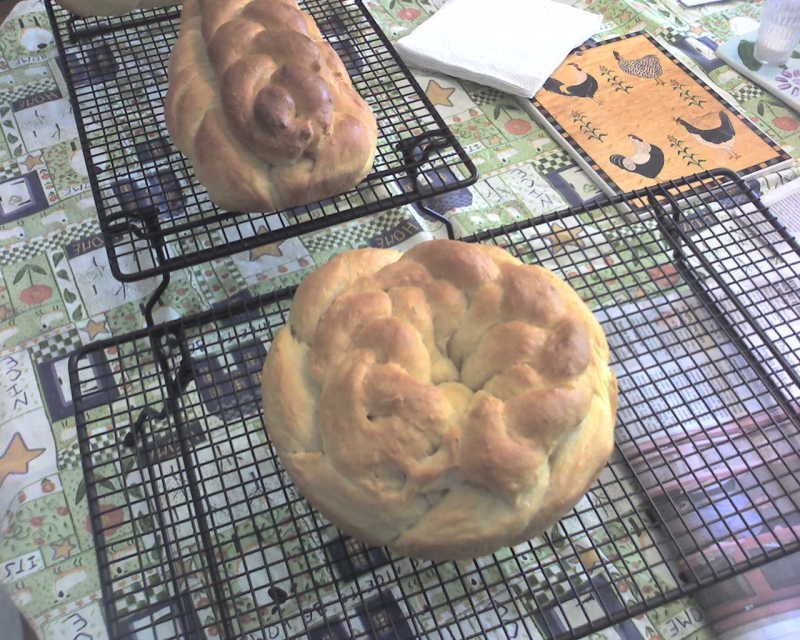 I did one of them round because I didn't have a third rectangular casserole dish. It actually turned out pretty good considering that I didn't have instructions handy on how to braid it for that kind of shape...
Now, this was the first time I'd used this particular challah recipe. The Cuisinart Bread Machine recipe, baked in the oven instead of the bread machine, had a more Publix bakery kind of texture. (Publix is the best source of bakery challah around here, grocery store or not. No one that I know buys it anywhere else.) That is to say, an almost nonexistent crust and soft inside. This recipe, however, produces loaves with a thicker crust and which are a little on the dry side. I think this could be remedied either by baking at 350, instead of 375, or reducing bake time. As it is, I think they could be improved by adding raisins, currents, and/or cinnamon. If I added cinnamon... or even cinnamon-sugar, I would do so after the "snakes" were rolled for braiding, either by rolling the snakes unevenly in the spice or sprinkling it onto them and then braiding as usual. Because the dough rises a final time after that, it should probably make it look like the cinnamon was swirled through the dough... or something.
The modified the challah recipe I used from
"Like Mama Used to Make... and More" published by the Ann Arbor (Michigan) Hadassah in 1986
:
1/2 cup warm water
2 packages dry yeast
1/2 cup oil (I use extra virgin olive oil)
2 Tbsp sugar
1 Tbsp salt
1 1/2 cups very hot water
3 eggs + 1 egg to brush on the dough before baking
7 cups of flour (approximately - and I used bread flour, but all-purpose could also work)
Dissolve the yeast in warm water. Mix oil, salt, and sugar with the very hot water until the sugar and salt have dissolved. Let cool. Beat the 3 eggs into the yeast, then add it to the oil and water mixture. Add 4 cups of flour and mix well. The dough will be very sticky at this point, probably best not to use your hands yet. Add additional flour a half cup at a time to make a firm dough. Knead until the dough is smooth. Place the dough in an oiled bowl (like a large mixing bowl or
a proper dough bowl
*) and turn so that all sides are coated with oil. Cover loosely with a clean slightly damp tea towel or plastic wrap and let rise 1 hour, until doubled.
Punch down and divide into 3 parts. Each of these will make one loaf. Each loaf with be comprised of two braided sections, one atop the other. Divide each part into 4 parts. Of those 4 parts, divide one again into 3 parts for the smaller top braid. Take the three larger pieces and roll them into snakes of the same length (whatever seems a reasonable length to you). Lay them out next to each other and pinch together at one end. Braid them as if braiding hair, and pinch together at the end to secure. Take the smaller pieces made from the 4th part, and repeat this process. Lay the smaller braid a top the larger and pinch where needed to adhere them together.
Place loaves in greased bread pan, brush with egg, cover and let rise again for at least 35 minutes, to double. Repeat this for the second and third loaves. You may choose to sprinkle poppy or sesame seeds on top at this time.
Bake at 375 degrees for 30 minutes, then 15 minutes at 350.
Let cool a few minutes in pan, remove and let cool completely on a cooling rack before slicing.
Enjoy! :D
* This dough bowl is the best baking purchase I've made EVER! It really does help dough rise quickly and evenly. It retains heat from the dough and insulates it to keep it warm and help the yeast do its work. I love mine ever so much.